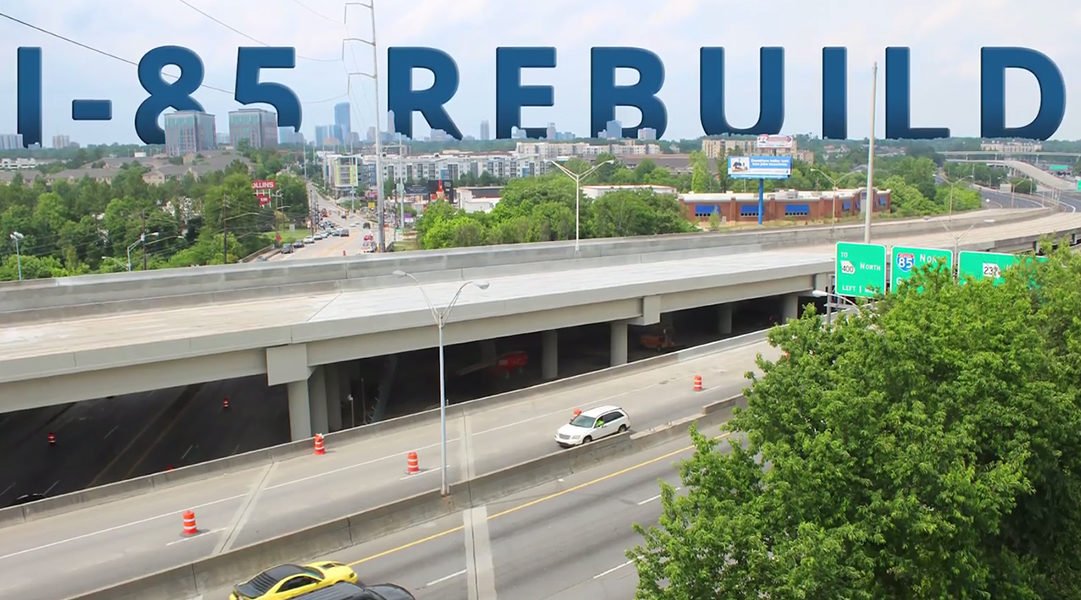 On June 22, 2017
The I-85 bridge reopened early, in a construction feat touted as "nothing short of impressive," by U.S. Secretary of Transportation, Elaine Chao.  With a completion time of just over six weeks, the bridge was dedicated in a ribbon-cutting ceremony on May 18, 2017, hosted by Governor Nathan Deal, Secretary Chao, and officials from the Georgia Department of Transportation (GDOT).  Aaron Diamant, of WSB-TV, interviewed Secretary Chao about the rebuilding project.  She said, "it speaks volumes about the teamwork of this community and this state in making this a reality."  Georgia DOT Commissioner Russell McMurry stressed the urgency involved in the repairs, and getting motorists back on the road, saying, "Time was critical and the clock was ticking. Every day counted for motorists who use this corridor to get to and from their jobs and other activities, and for businesses needing to serve their customers."  McMurry went on to say, "I have never been more proud of the Georgia Department of Transportation and the tireless efforts of our employees."  Governor Deal was on hand to congratulate everyone involved in the rebuild, and said, "In Georgia, we get things done, and this is a prime example of multiple levels of government, the private sector and the general public working together for the best possible result. I commend the efforts of everyone who worked to make the early reopening of I-85 possible."
Engineering feat.  The completion of the bridge is a triumph for many who worked tirelessly on the project, including construction workers, highway safety officers, engineers, traffic controllers, planners, firemen, and more.  With crews working through the night, and more than 54,000 man hours dedicated, the project finished six weeks early, resulting in an estimated $27 million in savings for commuters (GDOT).
Want to see the highlight reel?  Check out this time-lapse video that captures the construction progress from start to finish!
MARTA maximizes service.  Many commuters relied upon MARTA during the rebuilding project, and some tried the transit service for the first time.  Mark Winne, of WSB-TV, asked Keith Parker, General Manager and CEO of MARTA, whether ridership had increased. "Very significantly. In a range of ways, we've seen in some stations huge spikes — as much as 40, 50 percent. Other stations 5, 10, 15 percent, but just an overall steady increase of people using our services every day," Parker said.  As ridership increases, MARTA is working on strategies to expand rail lines and transit routes, as well as adding a state-of-the-art phone app.  The Atlanta Regional Commission's 33°n reported that many MARTA stations experienced a spike in ridership following the bridge collapse, especially Northern stations.  Weekday average ridership increased more than 66% in Brookhaven, 43% in Sandy Springs, and 25% in Dunwoody.
What about you?  With congestion in the impacted area of I-285 increasing a minimum of 30%, and up to 50% in some areas (according to the Atlanta Regional Commission), many commuters opted for an alternative commute.  Did you change your commute during the I-85 bridge rebuild?  Maybe you tried a transit commute, worked flexible hours, took a bike commute, or added members to your carpool.  Now that you've experienced a greener commute, why not stick with it and keep the savings coming?  Did you know that riding MARTA to work five days a week could save you more than $3,400* a year?  Alongside the cost savings, consider how your green commute could contribute to improving air quality and reducing congestion.   The Georgia Department of Transportation recommends these resources for planning your commute:
• Georgia Commute Options for resources and information about cash incentives for using commute options
• itsmarta.com for MARTA routes and schedules
• xpressga.com for GRTA Xpress routes
*Savings based on average round trip commute of 23 miles and a $95 monthly MARTA pass.
Warning
: count(): Parameter must be an array or an object that implements Countable in
/home/customer/www/perimeterconnects.com/public_html/wp-content/themes/vision_wp/template_inc/loop-index.php
on line
234
By Perimeter Connects 0 Comments