Due to MARTA track replacement work, the Perimeter Glenlake shuttle will pick up and drop off at Dunwoody Station on February 21, 22, and 23. This shuttle will return to its normal loop and schedule February 24th.
To access the shuttle at Dunwoody Station:
Proceed to the ground floor of the parking deck on the western side of the station.
You can access it on the ground level from the bus loop by walking out to the street (Hammond Drive) then heading west and following the on-ground shuttle markers (see below).
These markers will take you around to the parking deck entrance, down a short set of stairs, to the shuttle loop.
You should see big letters spelling out "Shuttles" on the wall opposite you – that means you're in the right place.
Look for the Perimeter Glenlake shuttle (same bus and same drivers)!
Path from bus loop to shuttle loop area: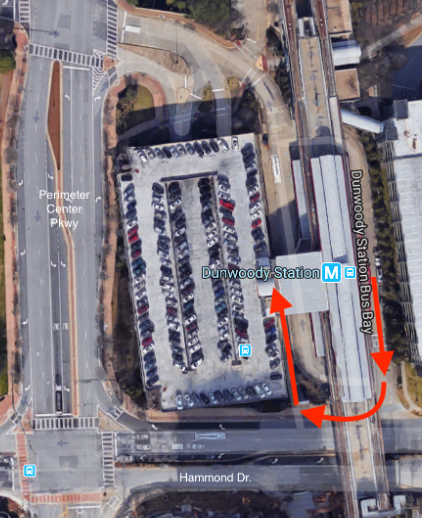 For any issues with the shuttle location or scheduling please contact American Coach directly at 770.449.1806. If you encounter any issues with these instructions please contact our team at 770-390-1788.