Pathway to an Improved Commute
The latest updates and news on Transform 285/400 and its transportation impacts in Perimeter
Under Construction: Transform 285/400

Rendering: Transform 285/400
Led by the Georgia Department of Transportation, the I-285 at GA 400 interchange is undergoing a major upgrade over a multi-year coordinated construction period that will add roadway capacity, improve traffic flow, safety and access, and generate opportunity for new investment in the Perimeter area. Construction for the project is scheduled for completion in 2023.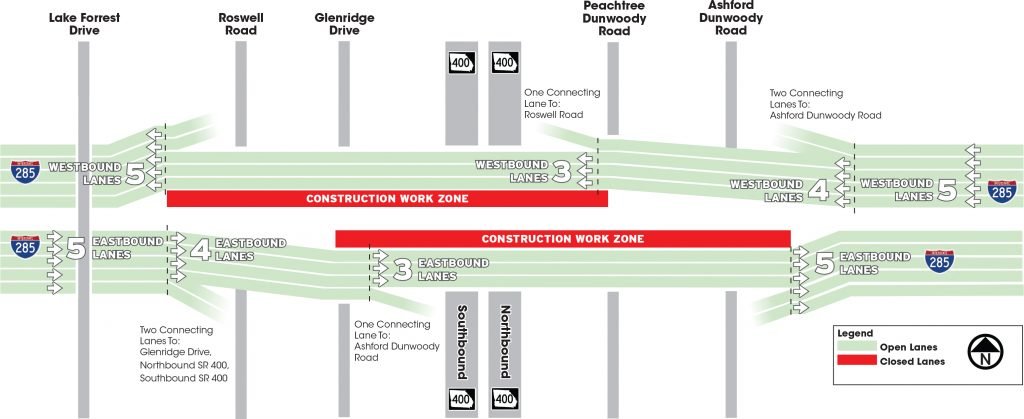 24/7 Lane Closures on I-285 Begin Early October
The Transform 285/400 transportation project will soon enter its most transformative stage. To complete construction of the 285/400 improvements and replace a series of 50-year-old bridges along I-285, the Georgia Department of Transportation (GDOT) will close two left-hand lanes in each direction of I-285, between Roswell Road and Ashford Dunwoody Road. This closure is slated to begin as early as Saturday, Oct. 8 and will last until the project's completion sometime in the second half of 2023. Parallel collector-distributor lanes being built as part of the Transform project should help to absorb some of this disruption and smooth merging in the area. Once completed, the 285/400 interchange will be able to handle more vehicles with less delay, providing a better experience for those coming to Perimeter or passing through on I-285 or GA-400.
Now Open: New Access Ramp for Ashford Dunwoody Road
GDOT has also recently opened a new access ramp to Ashford Dunwoody Road from I-285 eastbound. Those exiting at Ashford Dunwoody from I-285 eastbound will need to make this exit much sooner than you'll be familiar with – please
see details about the new access point here.
285 Lane Closure FAQ
Lane closure start
: GDOT has set a tentative start date of Saturday, Oct. 8, 2022
Lane closure completion:
Currently projected for latter half of 2023
Where?
Two interior lanes will be closed first; closed lanes will shift as work shifts to next segments of the bridge replacements.
When?
Lanes will be closed 24/7 to allow disassembly and replacement of the existing bridge structures
Why are they doing this?
I-285 is 50 years old, and the bridge sections are due for replacement to ensure their safety. This work has been included in the 285/400 reconstruction to save money and reduce construction impacts on the community
For detailed project issues, concerns, or questions please contact the Georgia Department of Transportation directly at
transform285400@dot.ga.gov
Construction Radar
Be the first to know about construction impacts planned for Perimeter.
285 Westbound to Collector-Distributor Lane to Roswell Road
To access Roswell Road traveling on 285 westbound, merge onto the collector-distributor lane between Peachtree Dunwoody Road and SR 400 to exit at Roswell Road.
285 Eastbound to Ashford Dunwoody
To access the Ashford Dunwoody Road exit traveling on 285 eastbound, merge onto the collector-distributor lane just after Glenridge Drive.
285 Westbound to 400 Northbound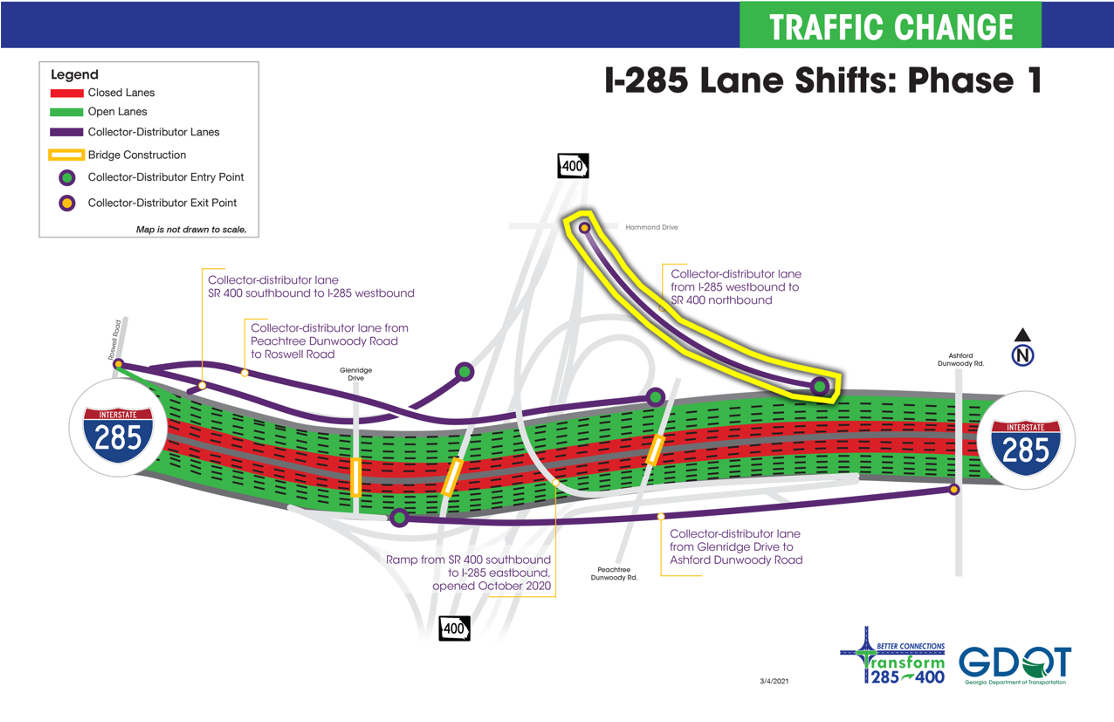 To access 400 northbound traveling on 285 westbound, merge onto the collector-distributor lane immediately after Ashford Dunwoody Rd.
285 West to 400 Southbound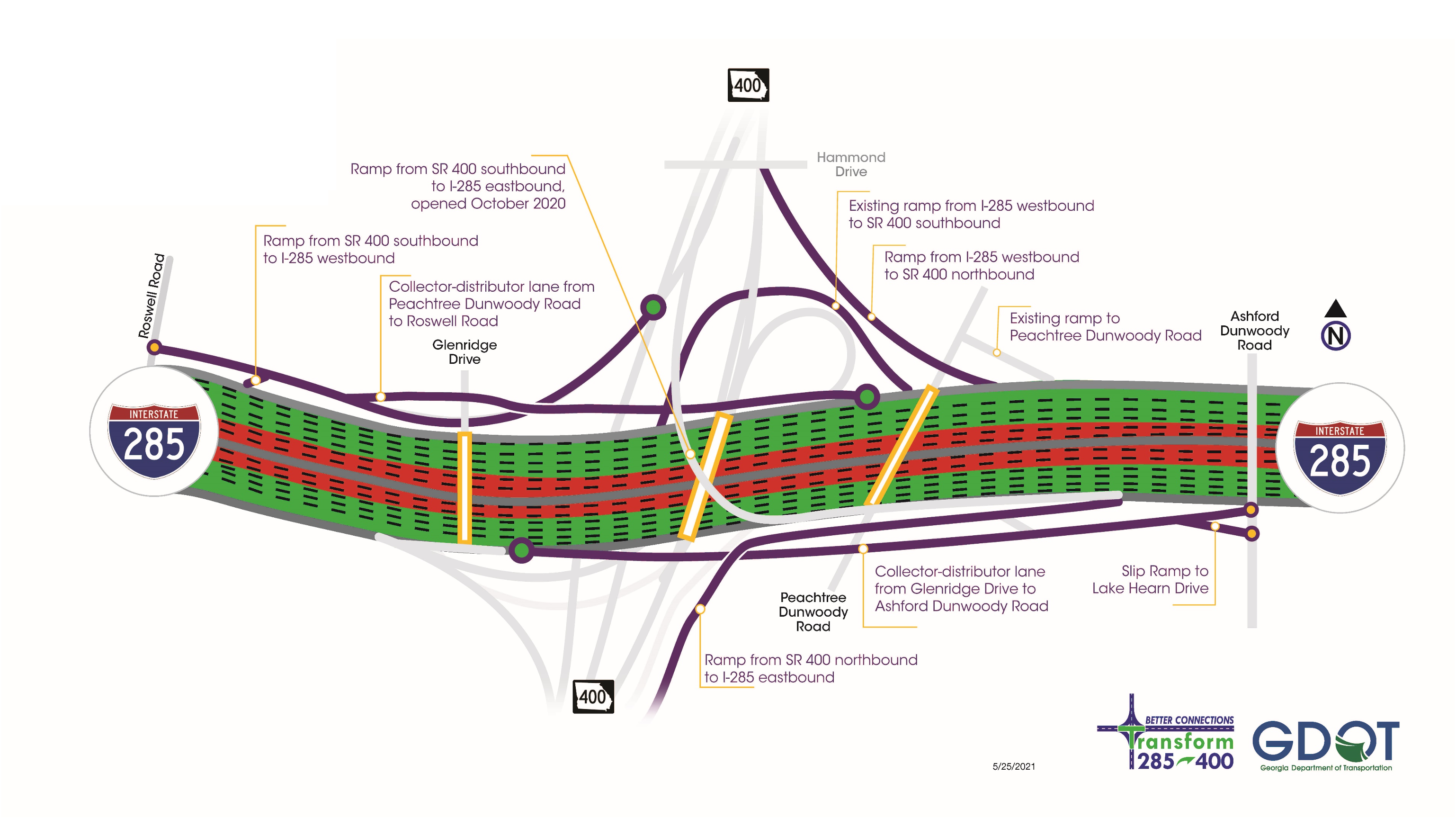 To access 400 southbound traveling on 285 westbound, pass the 400 northbound exit and take the separate 400 southbound exit, immediately after.
400 Southbound to 285 West/East including Ashford Dunwoody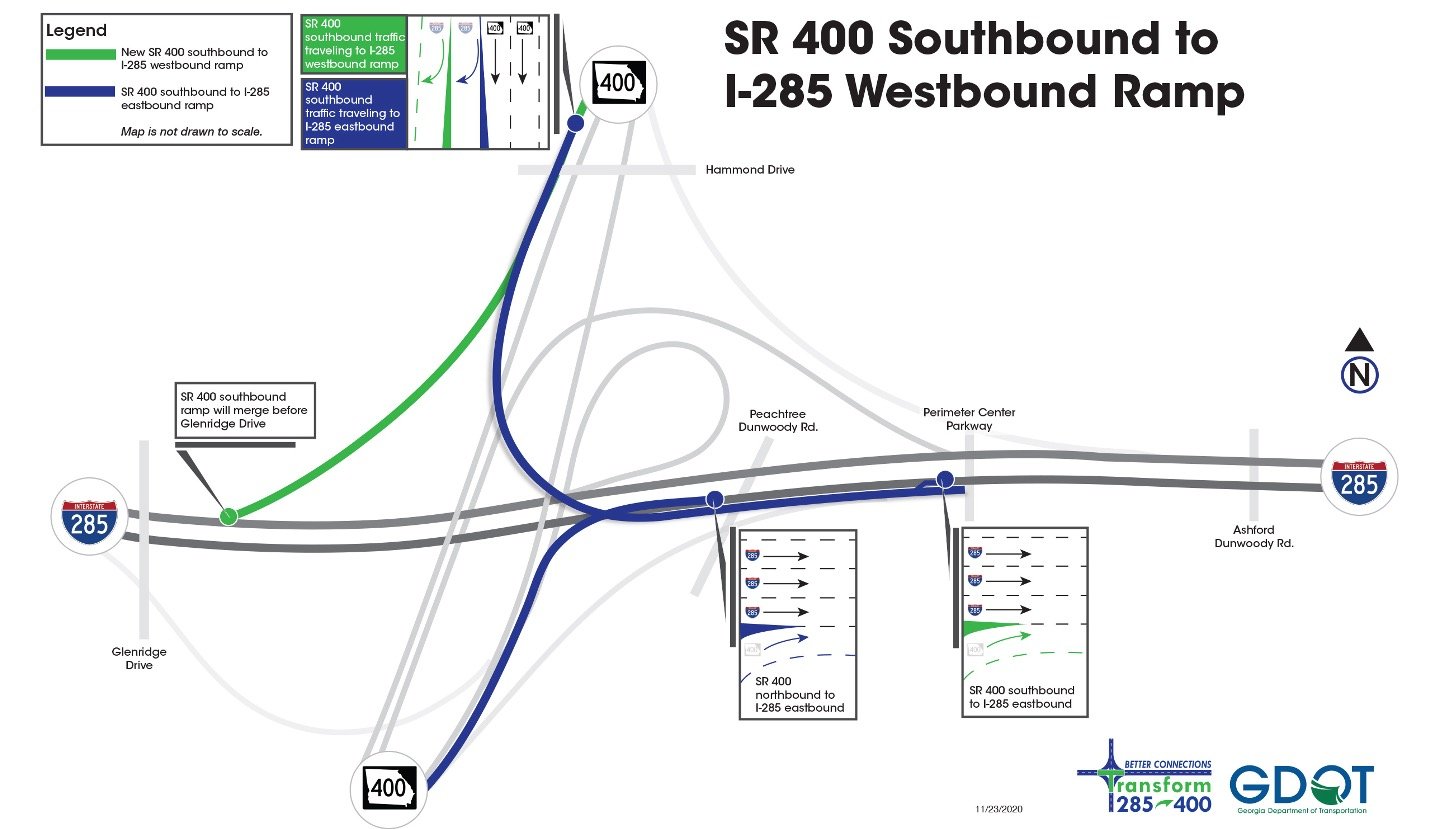 Choose your exit lane to 285 before Hammond Drive. To travel to 285 westbound, choose the far right lane. To travel to 285 eastbound, choose the second lane from the right.
Know when to drive on I-285
We've compiled the latest traffic data to create a visual guide of the best and worst times to travel on I-285. Click the links below to find the best travel windows.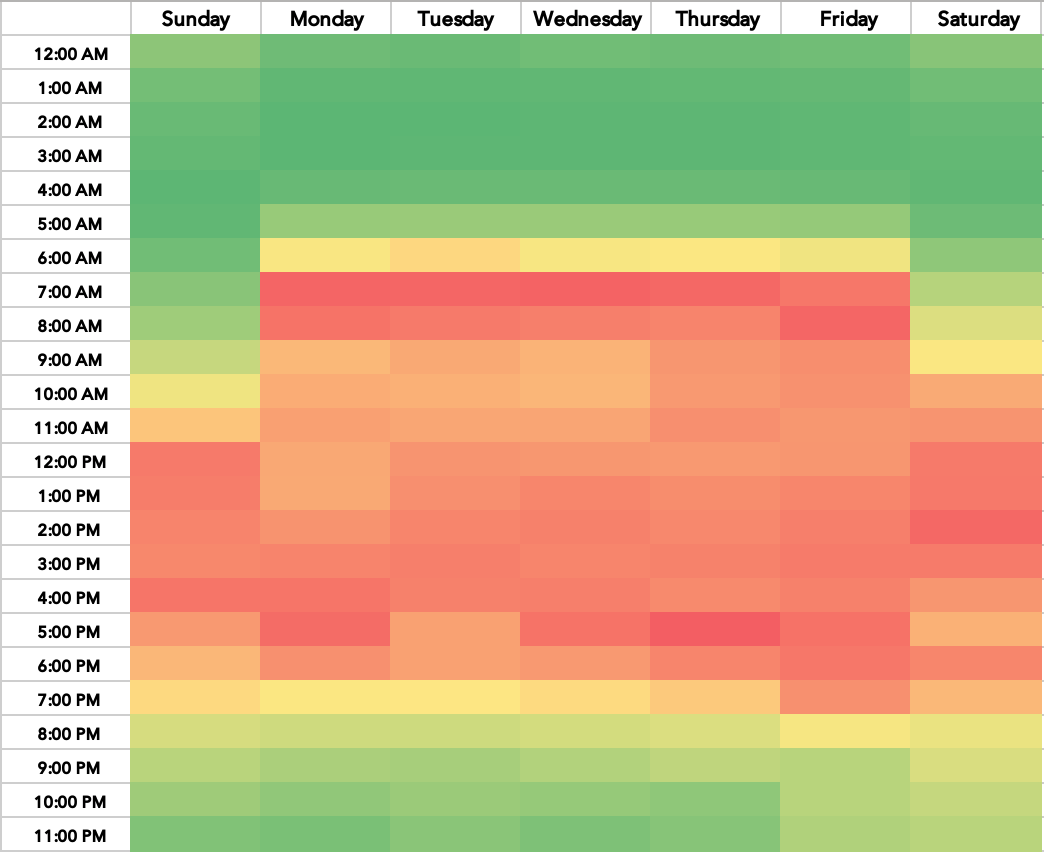 Traffic congestion by Hour on I-285 to and from I-85.
You Can Count on Us
You don't have to navigate construction on your own. From commute planning assistance to handy resources, we've got you covered.
Transform 285/400 By The Numbers
includes 4.3 miles of upgrades on I-285, from Roswell Road to Ashford Dunwoody Road, and 6.2 miles on GA 400, from Glenridge Connector to Spalding Drive.
The project kicked off in February 2017 and is expected to be completed in 2023.
in construction upgrades to improve travel conditions and access on the interchange.
Improvements are estimated to save GA 400 and I-285 travelers this total amount each day.