Save yourself $80+ and avoid the hassle of getting a car/ride and dealing with traffic. You have a few transportation options if you're a business traveler flying into Hartsfield-Jackson Atlanta International Airport and need to get to a hotel in the Perimeter Center area; MARTA is the local's choice for getting to Perimeter.
Making your way through the World's Busiest Airport can be stressful on its own – add in figuring out how to get to your final destination and it can be a lot. The obvious choice is to rent a car or use a rideshare app to make that last connection, but neither is going to be as easy as you'd expect. And both options are becoming more and more expensive. So, what do the locals recommend? Taking the train! Here are a few reasons why we recommend using MARTA when traveling to Perimeter Center from Hartsfield-Jackson International Airport:
#1 Cost
The average rideshare pricing from the airport to Perimeter Center is $40 each way and that's before tips, surge pricing, or upgrades. That's a hefty price to travel less than 25 miles. Jumping on the train will only cost you $2 for a Breeze card and $2.50 for a one-way trip (in other words, $7 all-in, or $5 if you use Breeze Mobile). There are no fees or pricing changes. Thinking about renting a car? A full-size sedan will run you $80 per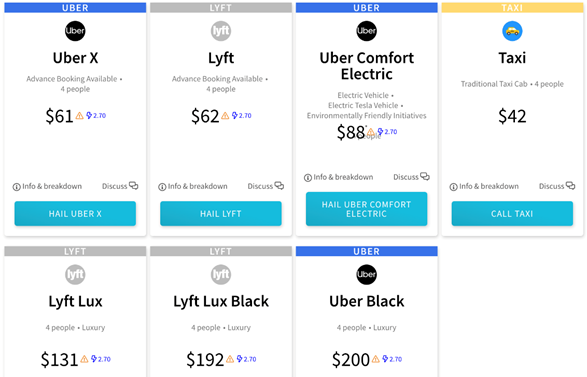 Pro Tip: Use the Breeze Mobile App to purchase tickets on your phone, it will save you from buying the $2 breeze card and you get to skip the line and kiosk at the station.
#2 Time
Atlanta is a massive economic engine, and that means traffic. If you are trying to get to the Perimeter between 7am and 7pm, you will experience significant traffic on your trip. Consider jumping on the Red Line rather than sitting in that traffic: the Red Line runs every 15 minutes during these peak times takes 40 minutes station-to-station from Airport to Dunwoody Station, no matter the time of day. Driving to the same location can range from 45 minutes to an hour and 25 minutes during peak rush hour. If your time is valuable to you, skip traffic!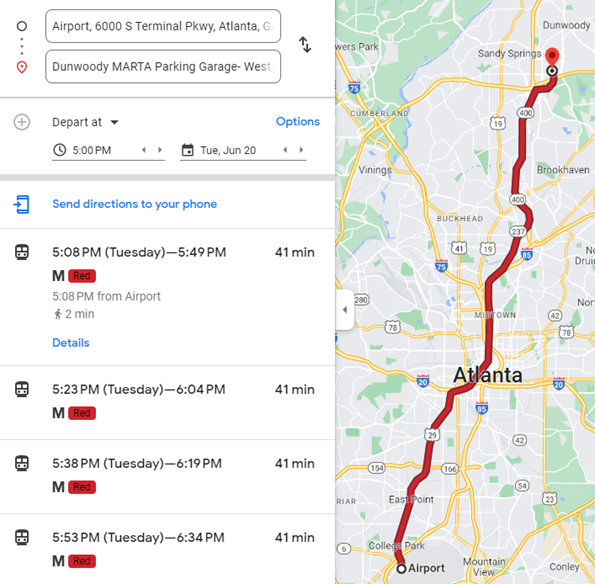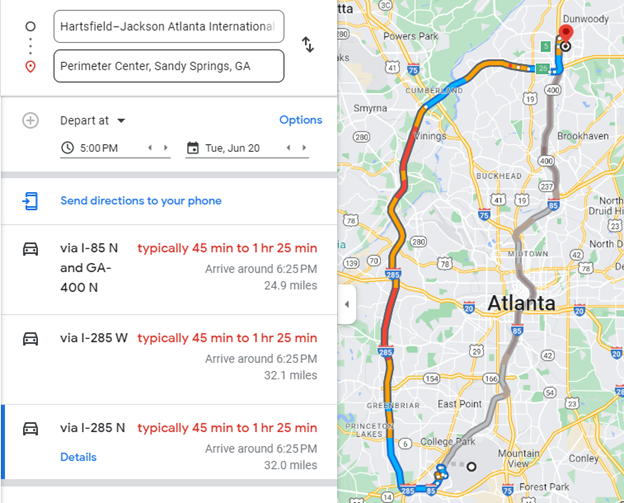 Note: You may have to wait for a train departure, but the walk and queue for Uber/Lyft vehicles is easily as long. Hartsfield-Atlanta has a special pick-up area for rideshare vehicles that is a five-minute walk from baggage claim, and rideshare vehicles wait in line to enter, usually leading to a line of drivers waiting on those ahead of them to find their passengers and load.
Planning ahead? Check out the MARTA on the GO app for schedules and real-time train arrival info.
#3: Convenience
There is a MARTA Station directly inside the Atlanta Airport (Airport Station)– something that doesn't perfectly register with Google and Apple Maps. These mapping apps will have you walking all over the place when in reality, you can simply grab your bags at the north or south baggage claim and hop on the train right there – without even exiting the airport. Follow the signs for baggage claim and then look for the MARTA signs which indicate the entrance to the station. Once you're at the entrance, you can purchase a ticket at the kiosks (or have it ready to go on your phone through the Breeze Mobile app), then head up to the platform and catch a Red Line train towards North Springs. From there, you can just relax as the train makes its way to Perimeter, traffic-free.
#4: Access
There are three MARTA stations located in Perimeter: Medical Center, Dunwoody, and Sandy Springs. Depending on where you're headed, there are numerous shuttles available in the Perimeter area that pick up and drop off at the MARTA stations and connect to office buildings nearby. Check out the shuttle map here: https://perimeterconnects.com/shuttles/
There are also several hotels within walking distance of a MARTA Station and others that offer an on-demand shuttle from the stations that you can request as needed.
Hyatt Place Atlanta / Perimeter Center – 0.1 miles from Dunwoody Station (2-minute walk)
Crowne Plaza Atlanta Perimeter at Ravinia – 0.5 miles from Dunwoody Station (10-minute walk) or call the front desk and request the shuttle for a free ride!
Atlanta Marriott Perimeter Center – 0.3 miles from Dunwoody Station (6-minute walk)
Embassy Suites by Hilton Atlanta Perimeter Center – 0.4 miles from Sandy Springs Station (8-minute walk) or call the front desk and request the shuttle for a free ride!
Le Méridien Atlanta Perimeter – 0.8 miles from Dunwoody Station (18-minute walk) or call the front desk and request the shuttle for a free ride!
Hyatt House Atlanta – 0.2 miles from Medical Center Station (2-minute walk)
Westin Atlanta Perimeter North – A shuttle picks up every 15 minutes at Dunwoody Station (follow the signs for shuttles and catch the Concourse Shuttle).