Work on the Transform 285/400 project has been hot the last few months as crews are making progress on Interstate 285 bridge reconstruction. I-285 bridge reconstruction and associated lane closures began back in October 2022. The reconstruction was split into two phases and estimated to take four to five months per phase for completion. Crews are tracking to complete the new bridges by late July 2023.
A recent milestone of the I-285 bridge reconstruction included the final beam settings on all three I-285 bridges over SR 400, Glenridge Drive, and Peachtree Dunwoody Road. Upon completion of these three bridges, the Transform 285/400 project will have built 32 total bridges as part of this crucial interchange project.
In conjunction with the I-285 bridge reconstruction, the reconstruction on Peachtree Dunwoody Road is well underway and tracking to be complete this summer. This roadway will be expanded to allow safer traveling for motorists and improved sidewalks for pedestrians. In the final configuration there will be six lanes total between Lake Hearn and north of the freeway. There will be four lanes going from north to south with two lanes turning south to I-285 eastbound and two going straight to the hospitals. A new multiuse path will be constructed along the west side and sidewalks along the east side. The roadway will be repaved in this area as well.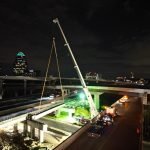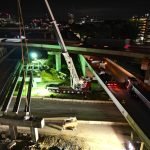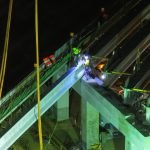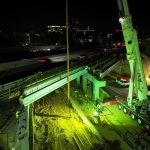 Check out these cool behind-the-scenes photos from the final beam setting of the I-285 bridge over SR 400 and Peachtree Dunwoody Road.
Abernathy Road Diverging Diamond Interchange
The Abernathy Road Diverging Diamond Interchange (DDI) was implemented in April 2023.
The Abernathy DDI crosses traffic to the opposite side of the road across the ramp intersections allowing vehicles to have unimpeded movement onto the freeway ramps. This innovative design reduces potential points of intersection traffic conflicts, improves traffic flow, and enhances safety.
While this DDI is open to the public, there is still work ongoing. Once in final configuration, the Abernathy DDI will have four lanes in each direction moving traffic through the interchange. The northbound exit ramp will have two lanes turning both east and west and the southbound on-ramp will be two lanes wide. The sidewalks in this area are also still pending construction.
Check out this ride through of the Abernathy DDI.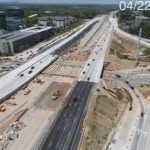 Abernathy Road:
Left – April 2022; Right – April 2023
Crews are working to complete the bridge deck replacement on the I-285 bridge over Lake Forrest Drive. With the completion of this bridge deck replacement, the exit points of the I-285 eastbound to the eastbound connecting lanes to SR 400 will change and the entrance point from the westbound connecting lanes from SR 400 to I-285 westbound will change. This is tracking to be complete by August 2023.
Progress continues to be made on Mount Vernon Highway. Currently there is pavement repair work ongoing on SR 400 northbound from Glenridge Connector to just after Hammond Drive. There are two lanes going through in this area. Crews are completing work on the exterior portion of the roadway and will switch to complete pavement repair work on the interior portion in the coming weeks. Once complete there will be two lanes in each direction. This will be complete mid-summer.
There will be several shifts in the SR 400 southbound to Glenridge Connector area in the coming months in preparation for the shift to traffic onto SR 400 southbound mainline. Once the new I-285 westbound to SR 400 connecting lane is finalized there will be a slip ramp for drivers to exit at Glenridge Connector. This is scheduled to be in place by mid-summer.
A new SR 400 southbound exit to MARTA/Abernathy/Hammond will open towards the end of summer. Currently only MARTA exits at this location. When complete, motorists going to Abernathy Road and Hammond Drive will also exit at the combined MARTA/Abernathy/Hammond exit.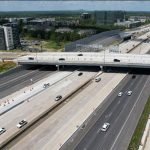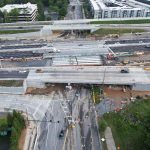 Project Progress Image Gallery
Take a look at our progress at key locations throughout the project corridor! You can also view project photo and video galleries at the project web page.
I-285 eastbound over Roswell Road: April 2021, April 2022, and April 2023
A bird's eye view of I-285 westbound at Peachtree Dunwoody Road: Comparing last year to this year
Check out more of the progress at the project's Flickr photo archive: