I-285 Bridge Reconstruction Advances to Phase 2
The Transform 285/400 project team has made major progress in the last few months. One of the most prominent milestones, I-285 bridge reconstruction and associated lane closures, has officially advanced into Phase 2. Phase 2, the final phase of bridge reconstruction, will include demolition and reconstruction of the exterior portions of three critical mainline bridges on I-285 over Glenridge Drive, SR 400, and Peachtree Dunwoody Road. Phase 1 began in October of 2022 and was completed within 5 months. Phase 2 is expected to take 4-5 months to complete.
Three lanes in each direction remain open during the daytime hours with additional closures in the nighttime hours and on weekends. I-285 traffic is moving through the work zone without major disruptions. Georgia DOT encourages motorists to use extreme caution in this area. Motorists should leave earlier, utilize navigation apps to select alternate routes, and consider alternative commute options through Georgia Commute Options.
This important work is some of the final steps leading to substantial completion of the Transform 285/400 project and bringing us closer to long-term improvements and enhancements to the region.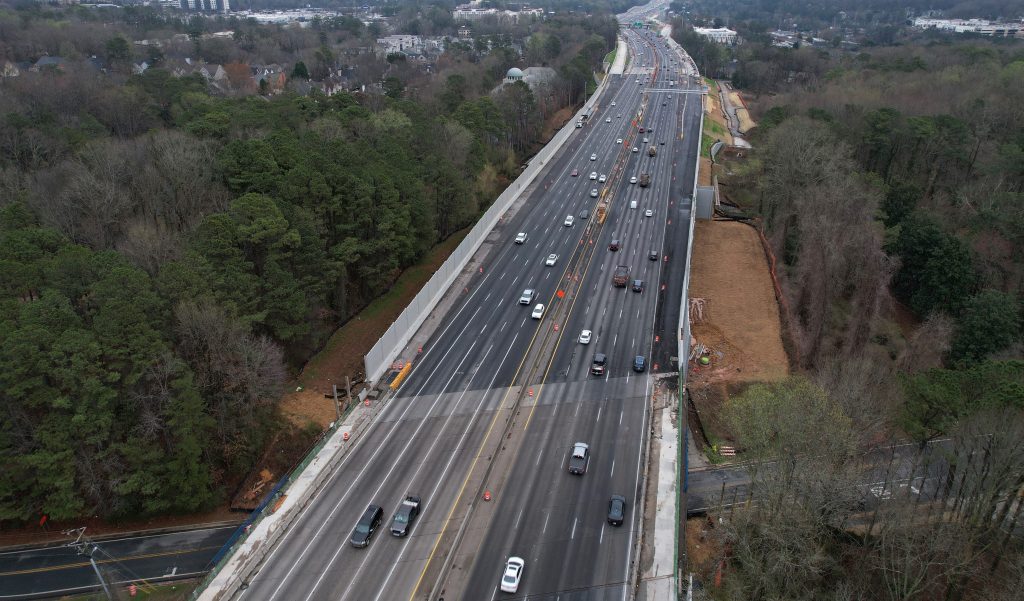 I-285 Bridge over Lake Forrest Drive:
Crews recently began the deck replacement of the current bridge on I-285 over Lake Forrest Drive. Closures of Lake Forrest Drive underneath I-285 will take place during nights and weekends. This deck replacement is anticipated to take around 3-4 months to complete.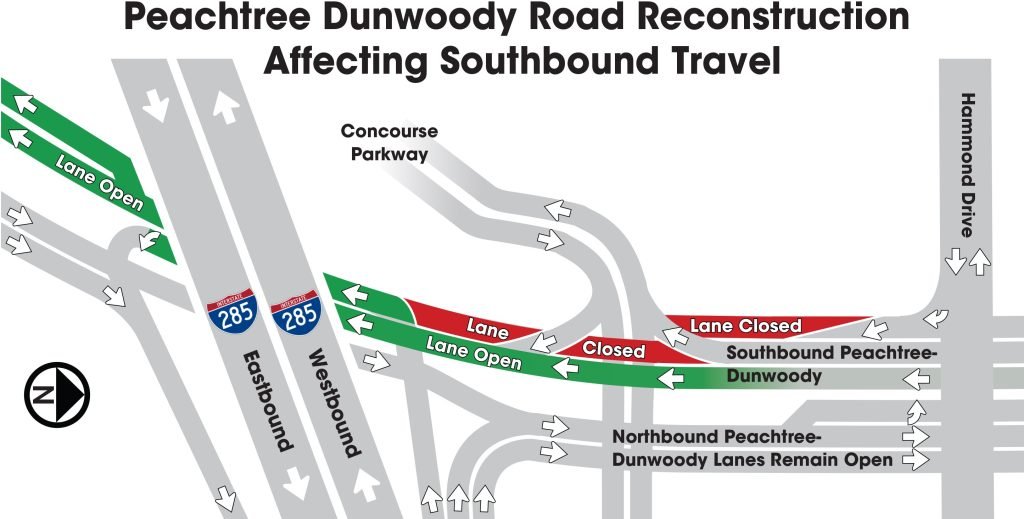 Peachtree Dunwoody Road Reconstruction Work Has Begun:
Reconstruction work on Peachtree Dunwoody Road is in progress. Once construction is complete there will be 6 lanes total between Lake Hearn and north of the freeway. A new multiuse path will be constructed along the west side and new sidewalks along the east side.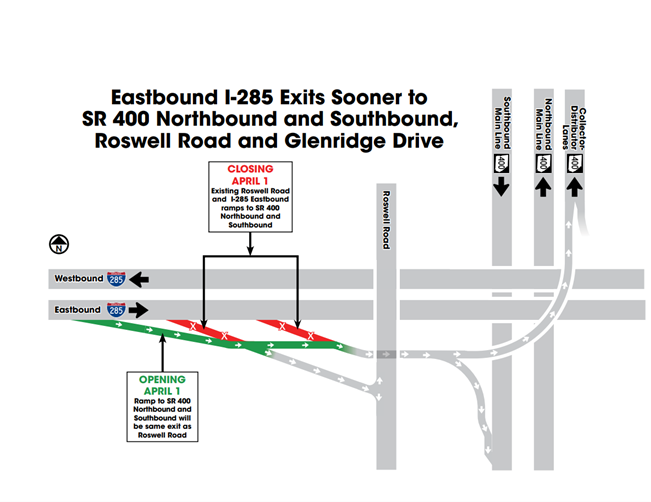 Beginning April 1 (weather dependent), there will be a new exit point for drivers on I-285 eastbound heading to SR 400 northbound and southbound, Roswell Road, and Glenridge Drive. This exit point will be approximately 1 mile sooner than the current exits.
Abernathy Road Diverging Diamond Interchange
The Abernathy Road Diverging Diamond Interchange (DDI) is anticipated to open by the end of April.
GDOT's DDI How-To Guide:
•DDIs help move traffic more efficiently through heavily traveled areas.
•A DDI crosses traffic to the opposite side of the road across the ramp intersections allowing vehicles to have unimpeded movement onto the freeway ramps.
•This innovative design reduces potential points of intersection traffic conflicts, improves traffic flow, and enhances safety.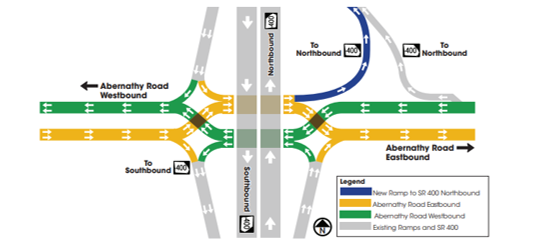 Project Progress Image Gallery
Take a look at our progress at key locations throughout the project corridor! You can also view project photo and video galleries at the project web page.
I-285 westbound over Peachtree Dunwoody Road – Feb. 2022 vs. Feb. 2023
I-285 eastbound over Roswell Road – Feb. 2022 vs. Feb. 2023
Check out more of the progress at the project's Flickr photo archive: