The I-285/SR-400 interchange has made massive progress in 2022, and the biggest changes are well underway nearing completion. Here's a quick review on the major progress this year, and what's coming up in 2023 for the Transform 285/400 construction project.
New lanes and ramps begin providing smoother access as construction peaks
2022 marked the completion of several major components of Transform 285/400, including collector-distributor lanes along I-285 between Roswell Road and Ashford Dunwoody Road, as well SR-400 north from I-285 to Abernathy Road. These lanes will help ease congestion by keeping vehicles entering and exiting the highway separated from mainline traffic. A suite of new ramps connecting I-285 to SR-400 were completed and opened to traffic, and major progress was made on I-285 bridge replacements, the Abernathy diverging diamond interchange, and the section of PATH400 spanning Glenridge to Peachtree Dunwoody.
I-285 Bridge Reconstruction Update
Steady bridge reconstruction progress continues to be made on all three bridges – foundation work is underway and scheduled beam placements began in December. I-285 traffic is moving through the work zone without major disruptions.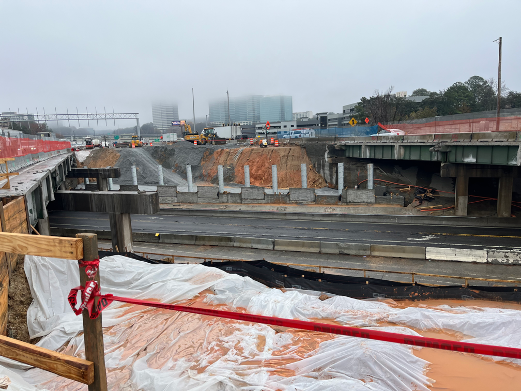 SR-400 Lane Closure
Georgia DOT contractors recently closed one right exterior lane along SR-400 northbound from Glenridge Connector to Hammond Drive in order for crews to begin pavement reconstruction work. Motorists are reduced from three lanes to two lanes but are still able to exit onto I-285 westbound, or continue onto SR 400 northbound with two lanes until shortly after Hammond Drive. A closure of one left interior lane will follow after work on the exterior is complete. The work on both left and right lanes, and associated closure of a single lane on SR-400 northbound will take at least three to four months to complete.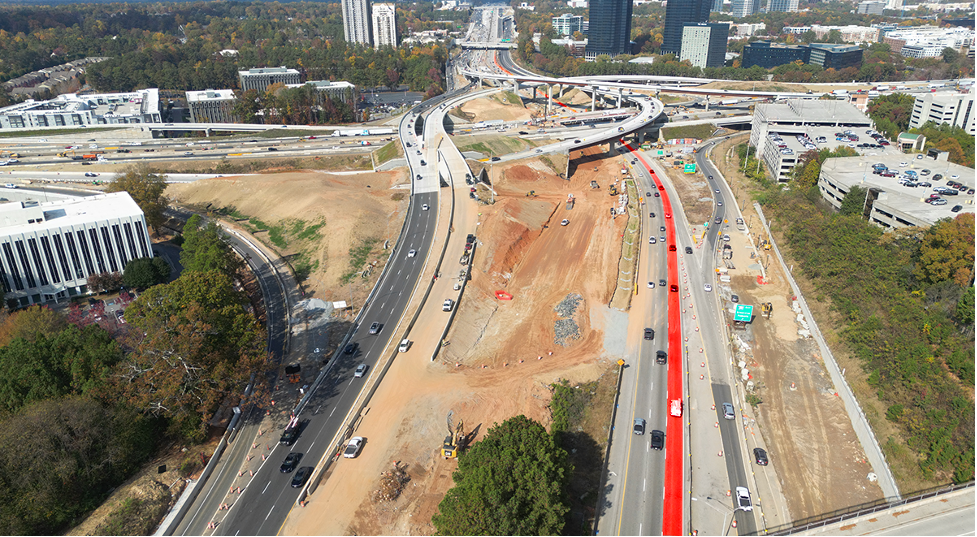 What's Next?
Many of the biggest pieces of Transform 285/400 are well underway or nearing completion. 2023 should mark the completion of construction and continual improvements for drivers as pieces shift to their final configuration. Here's an overview of what you can expect from Transform 285/400 in the first months of 2023:
The Abernathy Diverging Diamond Will Open Early 2023
The diverging diamond being constructed at the interchange between SR-400 and Abernathy Road is set to open in spring. This higher performing freeway exchange helps reduce traffic congestion and make the interchange safer to drive through.
Lane Closures on I-285 Shifting
The lane closures currently in place on I-285 to allow for bridge replacements at Glenridge Drive, SR-400, and Peachtree Dunwoody will finish in the first quarter of 2023. Work will shift to two other lanes for another four-month period (the final period of those lane closures). As parallel collector-distributor lanes are completed, traffic in the area may continue to ease.
Primary Construction Expected to Be Complete by End of 2023
Much of the work for Transform 285/400 is done, and substantial completion of construction is expected to occur before the end of 2023. That doesn't mean motorists have to wait a year to enjoy the benefits of the project. The roads, bridges, and collector-distributor lanes will open as they're completed for drivers to experience and look forward to milestones throughout 2023 (such as the completion of SR-400 collector-distributor lanes, final ramp configurations, and completion of I-285 lane closures).
Construction is steadily advancing toward the goal of making the I-258/SR 400 interchange safer and less congested. For more information on the project, you can visit the project website.